Recently W.A.G.E. Certified Institutions
#100!! EAI
But who's counting? See the full list of W.A.G.E. Certified institutions here.
April 13, 2022
EAI becomes the 100th W.A.G.E. Certified organization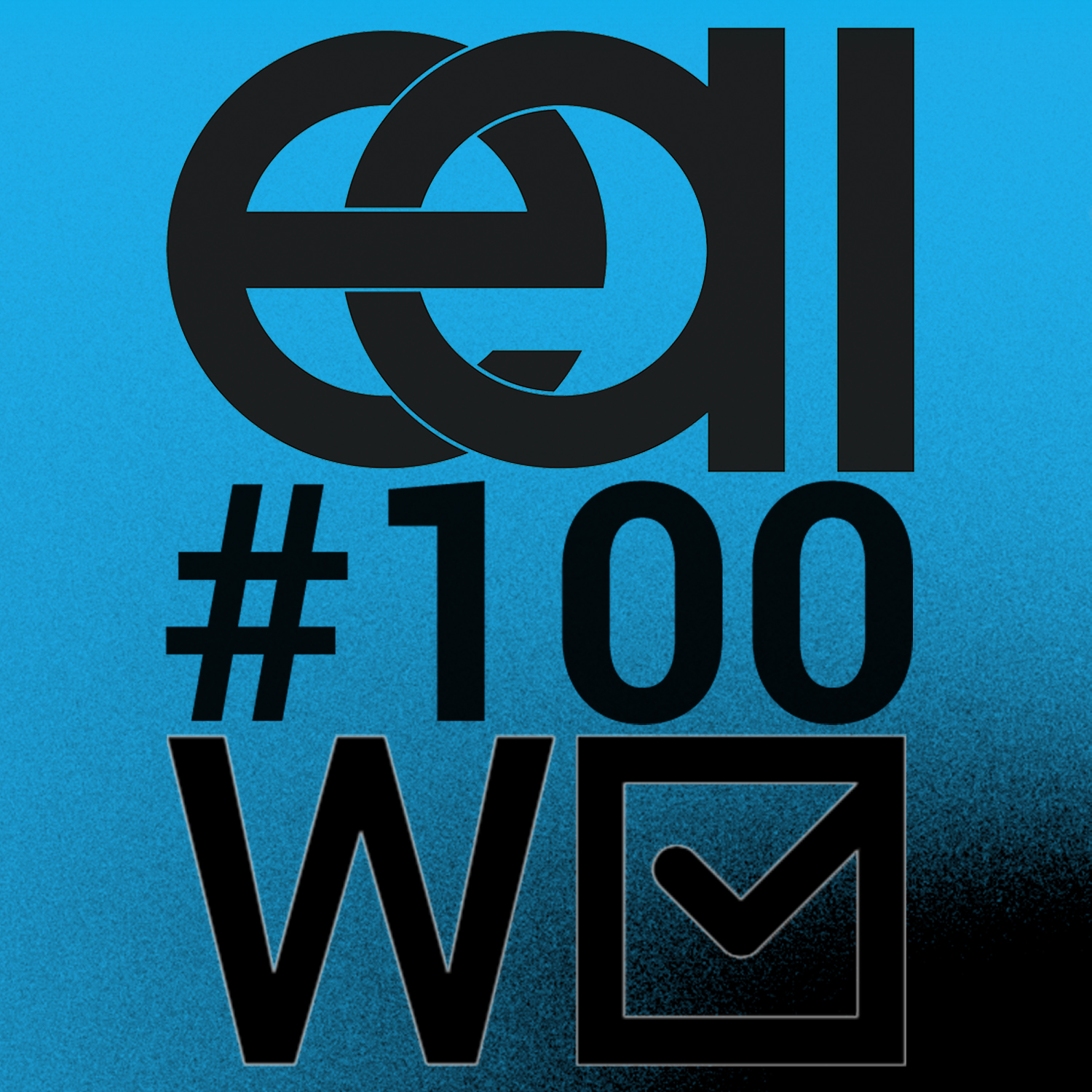 In October 2014, Artists Space became the first organization to receive W.A.G.E. Certification. Today, it is with great pride that we mark a second milestone together with another renowned organization founded in the 1970s to provide alternative support mechanisms for artists: Congratulations Electronic Arts Intermix on becoming #100 to get W.A.G.E. Certified!
Since W.A.G.E. Certification's launch, more than $11 million has been paid out to artists through the program's administration. Organizations in 38 cities across 21 states have been certified, with the highest concentration here in New York City where W.A.G.E. was founded and is based, and where the alternative space movement of the 1970s began.
Many organizations that formed during this fertile period have grown into major institutions and pillars of New York's cultural life. Shout out to 4 who got certified – and to the rest, we're here whenever you're ready.
1968 The Studio Museum in Harlem
1969 El Museo del Barrio
1969 Taller Boricua
1970 112 Workshop>112 Greene Street>White Columns
1971 Bronx Museum of the Arts
1971 Electronic Arts Intermix *W.A.G.E. Certified 2022*
1971 Jamaica Arts Center
1971 PS1 Contemporary Art Center
1971 The Kitchen 1972 A.I.R. Gallery
1972 Artists Space/Committee for the Visual Arts *W.A.G.E. Certified 2014*
1973 SoHo 20
1974 Creative Time
1974 Louis Abrons Arts for Living Center at Henry Street Settlement
1976 Franklin Furnace Archive *W.A.G.E. Certified 2018*
1976 Printed Matter
1977 The Drawing Center
1977 The New Museum
1977 Public Art Fund
1978 Painting Space 122>Performance Space 122>Performance Space New York *W.A.G.E. Certified 2019*
Summer, 2020 (and forever)
W.A.G.E. in support of open letters to art institutions by Black and BIPOC artists and arts workers
April 13, 2020
With cultural institutions across the country struggling to maintain programming activity without access to their physical sites, many are moving content online, and some are doing so while simultaneously laying off and furloughing workers whose labor has become unnecessary to their daily operations.

After these critical staffing decisions have already been made by institutions, but before emergency funding flows downstream to buoy their organizational capacity, a window of opportunity is opening to adopt some simple protocols that build worker solidarity, increase transparency, and secure a more equitable distribution of resources across the institutional spectrum.

Building on Guidelines for the Postponement or Cancellation of Work, this message introduces a set of suggested best practice protocols.

1) Compensation for Online Content
Content transferred online or commissioned exclusively going forward for web-based platforms should be paid for at the same or greater rate as prior to the pandemic. Artists shouldn't be asked to provide free content in order to maintain the perception of continued institutional productivity.

2) Layoff and Furlough Transparency
In addition to updating audiences about programming changes and support for artists, institutions should consider including in their public announcements the layoff and furlough of workers, what measures they may be taking to support their staff, as well as any reduction in the compensation of their highest paid employees. The nonprofit sector's public-facing messaging should mirror internal policy changes that directly impact the livelihood of workers.

3) Distribution of Emergency Funding
Pledges of support from private foundations along with relief aid from the federal government should be distributed in ways that do not replicate existing unequal divisions of wealth among cultural institutions, but should instead be made with an awareness of the greater vulnerability to closure of non-endowed institutions, and in particular small-scale, local and community-based cultural organizations. Relief funding for institutions should be contingent on fair labor practices including the rehiring and equitable compensation of staff negotiated in good faith with unions.

W.A.G.E. has limited organizational capacity but will continue to add new guidelines as conditions evolve. In the meantime, please don't hesitate to reach out with questions: info@wageforwork.com.
March 27, 2020
As a $2 trillion stimulus bill containing financial relief measures for workers across the U.S. becomes law, whether artists are or should claim to be among them is now more than just a theoretical question. Worker classification, who pays us, and how we get paid have immediate material consequences for artists.

The purpose of this message is to introduce some basic guidelines that can be used by artists and nonprofit institutions as we begin to navigate the future of work in our field during the pandemic. These guidelines aren't a long-term solution for the crisis ahead, but are based on how the sector's economy functioned until very recently—that is, on what we already know.

We know that artists function as contracted workers when we enter into temporary transactional relationships with institutions to provide content, and are therefore entitled to compensation in our capacity as such. The question is: What happens when these relationships are interrupted or cancelled by institutions suddenly facing an uncertain financial future?

We know that institutional practices vary widely with regard to contracts and work agreements. Some institutions insist on them; others never use them. Offers might be made casually over email or verbally in a social context. Not using binding agreements leaves both parties vulnerable—but especially artists when a program is cancelled by an institution. W.A.G.E. regularly receives inquiries from artists struggling to get paid for work that was produced but never mounted because the offer was abruptly withdrawn.

At this time, institutions should honor all forms of agreement and pay artists for the work they were contracted to provide, whether verbally or in writing:

1) Work that was contracted, completed, and then cancelled due to mandatory closure.*
Artists should be paid now for work that was completed, such as an exhibition that had already opened or was about to open. If the institution cannot pay immediately, the artist and institution should negotiate a timetable for payment immediately.

2) Work that was contracted but not necessarily completed.
Postpone; don't cancel. If an institution contracted an artist for a future program, especially if it's within the fiscal year, don't cancel it—postpone. It's likely an artist has already paid out of pocket for production expenses in preparation. This investment, as well as the promise of work, should be honored.

3) Future work that was contracted but has not yet begun.
This will depend on an institution's ability to survive through the crisis, but the principle is the same: postpone; don't cancel. Timing in the art system is critical for artists, many have waited years for opportunities. Cancelling a program altogether could adversely impact an artist long into the future and may have implications for an institution's reputation more broadly.

W.A.G.E. will continue to work on adding to these guidelines as conditions evolve. In the meantime, please don't hesitate to reach out with questions: info@wageforwork.com.
*New York City's Freelance Isn't Free Act requires payment within 30 days of completion of work. WAGENCY's payment guidelines were designed around this law.
December 16, 2019

October 13, 2019 marked 5 years since the launch of W.A.G.E. Certification, a national program that publicly recognizes those nonprofit art institutions demonstrating a history of, and commitment to, voluntarily paying artist fees that meet W.A.G.E.'s minimum standards of compensation. With a total of $5,557,516 paid out to artists through 6,970 transactions, W.A.G.E. Certification had something to celebrate on its fifth birthday – so we commissioned a report to mark it.
Using tens of thousands of data points provided by W.A.G.E. Certified institutions and collected through 5 years of the program's administration, The Cornell University Survey Research Institute's analysis was informed by a set of questions posed by W.A.G.E. about how the redistribution of resources has impacted both artists and institutions, and how the model has worked for the complexity of the field. Now a tool, a service, and a coalition, W.A.G.E. Certification was initiated and developed by artists, and introduced in 2014 as both a labor campaign and a worker-driven experiment in institutional self-regulation. At its core is the assertion that artists function as contracted labor when we enter into temporary transactional relationships with institutions to provide content. It was an experiment because there was little evidence at the time to suggest that institutions would voluntarily commit to doing what was right according to standards they didn't directly participate in developing.
5 years after the introduction of W.A.G.E. Certification, the report lays out the results of this experiment and affirms what W.A.G.E. hoped might be possible: that institutions can self-regulate, the field can self-organize, and that artists can and are starting to get paid for their labor.
With a special thanks to Lubna Sharab for her work with the W◼A◼G◼E◼D◼A◼T◼A◼
February 18, 2019
Last month W.A.G.E. circulated a public invitation to artists participating in the 2019 Whitney Biennial. We invited them to use WAGENCY to withhold content from the exhibition in solidarity with Whitney staff until a set of demands made by the staff are met by museum leadership.

In the coming weeks, the Whitney Museum will make public the names of the 70+ artists selected by the Biennial's curatorial team. It is in support of these artists, and with the recognition that those of us not chosen in 2019 could just as easily be selected in 2021, 2023, 2025, 2027 and every two years henceforth, that W.A.G.E. extends this invitation to all artists participating in future Biennials at the Whitney Museum of American Art.

Like other exhibition conventions, biennials are very effective at dividing artists. Even though the work we make as individuals is the result of interconnected friendships and discourse cultivated across generations, exhibitions like the Whitney Biennial render our interdependency invisible. They reproduce racialized class division by rewarding a chosen few with increased cultural, social or economic capital, and they pit us against each other both as friends and as workers.

The 2019 Whitney Biennial is an opportunity to resist being divided by coming together around a political demand. Using WAGENCY, we can also author our collective dissent as a workforce and do so in support of those whose labor is critical to building artists' economic value: museum staff.

WAGENCY is a platform for transacting labor. It enables anyone supplying content for the programs of nonprofit institutions registered in the US to send requests for compensation at W.A.G.E. standards with the option of withholding content when those standards are not met. As an organizing tool, WAGENCY can also accommodate non-monetary demands. We invite current and future biennial artists to attach the Whitney staff's demand for accountability and transparency to their request for compensation, as pictured in the Fee Request below.

If you are an artist who is prepared to demand compensation for the content you might be selected to provide and are committed to withholding it until Whitney staff demands are met, please join WAGENCY and then contact us directly at wagency@wageforwork.com. Artists will receive temporary free access to WAGENCY and all correspondence will be kept confidential.
Below is a Fee Request template for withholding content from future Whitney Biennials. Fee Requests are sent to recipients from W.A.G.E. on behalf of WAGENTS. For more information about how WAGENCY works, please click here.

January 23, 2019
In a few months, more than 70 artists will be contracted by the Whitney Museum of American Art to supply the content for its 2019 Biennial exhibition. In the capacity of temporary workers, these artists will be permitted, and even encouraged, to publicly dissent, openly question, and politically engage with visitors through their participation.

If you are one of these artists, this invitation from W.A.G.E. is for you. We invite you to use your exceptional status as a worker who can claim both the freedom to dissent and the right to be paid to withhold your labor in solidarity with Whitney staff who cannot. We invite you to put your exceptionality to work.

This Saturday January 26th, W.A.G.E. will co-host a public Town Hall with Decolonize This Place and Chinatown Art Brigade to address what Decolonize This Place has described as a "crisis" within the Whitney Museum. This crisis concerns Warren B. Kanders, the Whitney board's Vice Chairman, who is also the owner of Safariland, a private defense manufacturer of tear gas cannisters and smoke grenades that were most recently used against asylum seekers at the US-Mexico border this past November.

If this is a crisis, it should be understood as one that is recurring and not isolated to a single institution. Efforts by the Art Workers' Coalition in 1969 to connect the economies of major cultural institutions to state violence and race and class-based oppression prefigure a string of recent crises implicating the Brooklyn Museum, the Guggenheim Museum, the Metropolitan Museum of Art, and the Museum of Contemporary Art, Los Angeles, as well as the Tate Modern and the Zabludowicz Foundation in the UK.

What makes the Whitney crisis unique is that it came about not because of the public dissent of artists, but through the private dissent of a group of full-time employees and part-time contracted workers. They composed an internal letter to Director Adam D. Weinberg decrying the museum's silence as complicity and pointed to an abdication of responsibility that would fall, in the form of increased labor and decreased political agency, on those already impacted most directly by state violence, oppression and exploitation: the museum's visitor-facing staff. The task of explaining on behalf of silent leadership why Warren Kanders remained Vice Chairman would be assigned to the lowest paid workers who are also disproportionately Black and People of Color. Finally, the letter insists on a restorative approach to realigning power at the leadership level predicated on transparency, accountability, and museum-wide staff participation. The letter was made public without staff consent.

Unlike artists, from whom dissent is expected, dissent by museum workers is carefully managed and in the case of visitor-facing staff might easily lead to dismissal. It is in solidarity with these workers, and on behalf of their demands, that W.A.G.E. invites artists in the 2019 Whitney Biennial to do two things: demand to be paid for the content they provide and withhold that content until the demands of Whitney staff are met.

With the arrival of each biennial there is a rare opportunity for a large group of artists to collectivize their leverage because for a short time they will all share the same employer. This year there is also WAGENCY, as well as an opportunity for artists to use their 'exceptional' status of 'getting to have it both ways' in support of those who do not. Having it both ways means being able to dissent and get paid. We believe that everyone should get to have it both ways—and until everyone does, the right to exceptionality will remain our demand.

If you are interested in withholding content from the 2019 Whitney Biennial using WAGENCY, please contact W.A.G.E. directly: info@wageforwork.com. All correspondence will be kept confidential. Biennial artists will receive free access to WAGENCY for the duration of the exhibition.
Below is an example of what a Fee Request sent through WAGENCY would look like to recipients at the Whitney Museum. If the Fee Request's terms are not 'approved' or the recipient chooses to 'negotiate' them down, the sender/WAGENT can choose to withhold content in response. Fee Requests are sent to recipients from W.A.G.E. on behalf of WAGENTS. For more information about how WAGENCY works, please click here.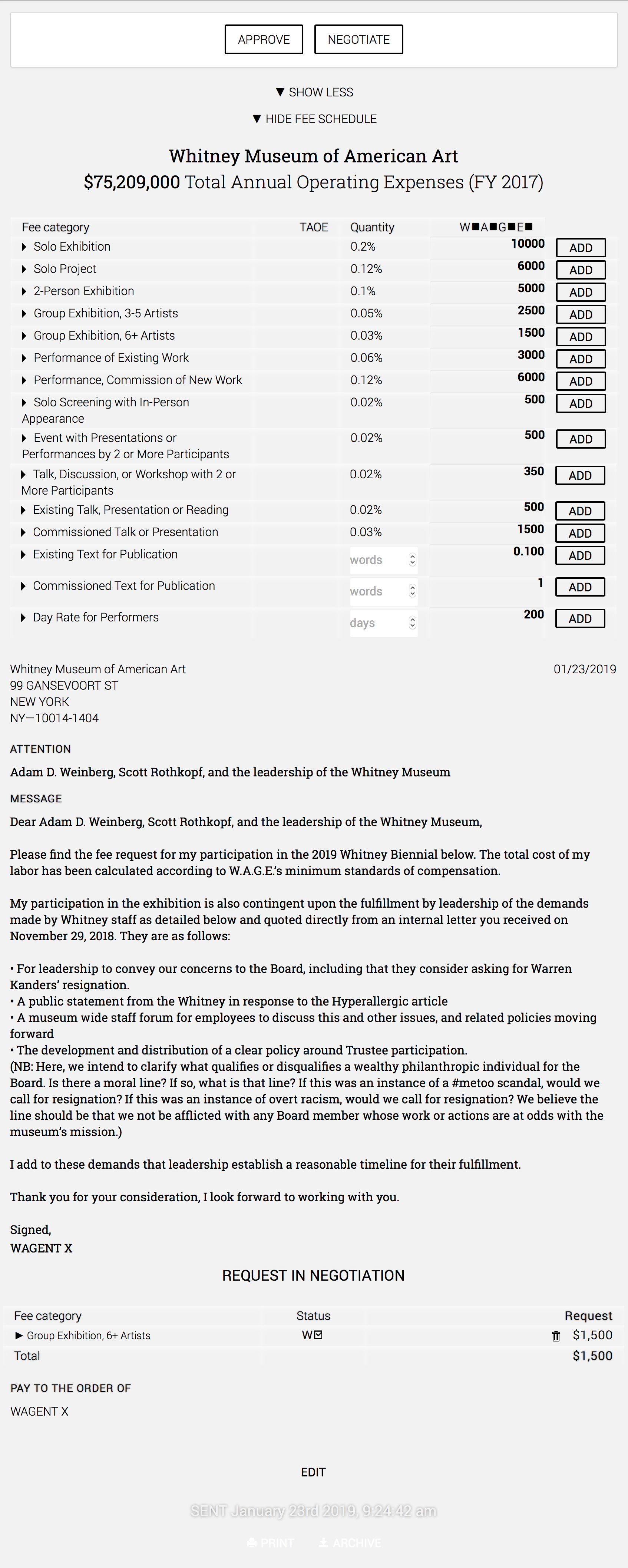 December 14, 2018
October 8, 2018
W.A.G.E. contributed an electronic direct action to the 3rd Anti-Columbus Day Tour, an annual effort led by Decolonize This Place to decolonize the American Museum of Natural History. Using WAGENCY, W.A.G.E. drafted and sent a Fee Request for $383 million to Ellen V. Futter, President of the AMNH as well as to other museum staff. This symbolic action was intended to call attention to the AMNH's prioritizing of capital investment over the urgent need to decolonize its holdings. Click here to view the Fee Request.
September 17, 2018
For 10 years W.A.G.E. has agitated around a single demand. We call for nonprofit art institutions to pay artists for the work they contract us to do. While our campaign could be summed up as an epic act of durational performance, it might likewise be written off as an inconsequential adjustment to an industry in need of total structural reform. It is neither, because W.A.G.E. is not an artwork and any truly inconsequential adjustment wouldn't have taken a decade to make.
Our demand has never been for a wage – it has been for fees, and it follows in the tradition of artists organizing around remuneration for cultural work in the United States that dates back to the 1930s. We see the contemporary fight for non-wage compensation as part of a wider struggle by all gig workers who supply content without payment standards or an effective means to organize.
An artist fee is just a price for labor. It does not and cannot account for the time or materials involved in making art. We define it as the expected remuneration for an artist's temporary transactional relationship with an institution to provide content. The fee is not for the work of producing content and it isn't for the content itself – it is for its provision. It is for the work of working with an institution.
A W.A.G.E. fee is a price for labor that has been set by workers. We chose to set our own prices because there were none, and we introduced W.A.G.E. Certification as a tool that institutions could use to self-regulate because we work in an unregulated industry that works hard for deregulated capitalism.
It turns out that an industry organized around profiting from unpaid labor requires more than a certification program to keep it in line – it requires artists to mobilize together as a workforce. WAGENCY is how we propose to collectivize our leverage and self-organize around the demand to be paid. We built WAGENCY for artists who need to earn money in order to survive, and who refuse to support a multi-billion dollar industry through their exploitation by it.
WAGENCY is a transactional platform that facilitates the fair remuneration of artists' labor in the nonprofit sector. It supplies artists with digital tools and the necessary collective agency to negotiate W.A.G.E. fees or withhold content from institutions when they refuse to pay according to W.A.G.E. standards. Instead of a coordinated strike mechanism, WAGENCY enables a matrix of individual boycotts that can and will happen at any given time. It is decentralized, worker-driven, and designed to give artists of varying means maximum agency in altering the industry's conditions of exchange.
W.A.G.E. agitates for the wholesale redistribution of resources within the art industry and proposes forms of union building based on individual self-organization grounded in collective struggle that must take place laterally across class. The demand to be paid is a political one. JOIN WAGENCY.
September 17, 2018
W.A.G.E. Fee Schedule Adjustments
In conjunction with the arrival of WAGENCY, we have made some revisions to the W.A.G.E. Fee Schedule, including the addition of a new category. These changes are intended to bring greater nuance to categories related to public programming and to make it easier for small- to mid-sized institutions to pay W.A.G.E. Fees. While in some categories the minimums fees have been reduced, using WAGENCY, artists can now request and negotiate fees above the minimum rates required rates for certification.
Category 9: Solo Screening with In-Person Appearance
The definition for this category remains the same.

$100 Floor Fee for institutions with operating budgets of $500,000 or less.

NEW: The required minimum for W.A.G.E. Certification now does not scale up beyond $500 for institutions with operating expenses of $2.5 million or greater.
Category 10: Event with Presentations or Performances by 2 or More Participants
NEW:

A single event with solo presentations or performances by two or more participants. This may include works such as, but not limited, to performances, screenings, or readings.

$100 Floor Fee

for institutions with operating budgets of $500,000 or less.

NEW: Required minimum for W.A.G.E. Certification does not scale up beyond $500 for institutions with operating expenses of $2.5 million or greater.
Category 11: Talk, Discussion, or Workshop with 2 or More Participants
NEW

CATEGORY

:

A single event with the simultaneous or shared participation of two or more participants.

$100 Floor Fee

for institutions with operating budgets of $500,000 or less.

NEW: Required minimum for W.A.G.E. Certification does not scale up beyond $350 for institutions with operating expenses of $1.5 million or greater.
Category 12: Existing Talk, Presentation or Reading
NEW:

The delivery by a single participant of an existing talk or visual presentation of works, or the reading of a text to an audience.

$100 Floor Fee

for institutions with operating budgets of $500,000 or less.

NEW: Required minimum for W.A.G.E. Certification does not scale up beyond $500 for institutions with operating expenses of $2.5 million or greater.
Category 13: Commissioned Talk or Presentation
NEW:

The delivery by a single participant of a new presentation or talk. Criteria for what constitutes new content must be negotiated between artist and institution.

NEW: $150 Floor Fee

for institutions with operating budgets of $500,000 or less.
Please visit the Fee Categories page as well as the Rates and Terms page for more information.
August 14, 2018
W.A.G.E. RAGER
Thursday, September 20
8-11 pm
Sliding scale, $20 suggested donation
Join us for drinks, performances, and dance to celebrate 10 years of W.A.G.E RAGE and the official launch of WAGENCY!
PERFORMANCES BY
Amelia Bande
Malik Gaines & Alexandro Segade
Keijaun Thomas
Mariana Valencia
PLUS
Live WAGENCY demo!
DJ JD Samson!
W.A.G.E. T-Shirt Screening Station: BYOT or get one from us!
W.A.G.E. Wo/manifesto posters!
Signed copies of Andrea Fraser's 2016 in Museums, Money and Politics!
March 22, 2018
W.A.G.E. Certification was initiated in the absence of government regulation and with the understanding that the nonprofit sector is not capable of regulating itself. In 2008 when W.A.G.E. was founded, non-payment was an industry standard. Ten years later, paying artists for their labor is finally becoming standard practice, but at the museum level how much to pay and who gets to determine it are contentious issues.

Museums have until now resisted following the guidelines and standards introduced by W.A.G.E., preferring instead to internally determine their own. Yet the choice by museums to independently formulate prescriptions for equity without accountability or transparency should not be mistaken for self-regulation. Self-regulation turns out to be collective work – in order for conditions to change, institutions must adopt and commit to using shared standards. In other words, standards don't mean much without standardization.

This is why the decision by the Institute of Contemporary Art at the University of Pennsylvania to become the first W.A.G.E. Certified museum is so significant. It demonstrates that a museum is capable of meeting external payment standards, and more importantly that those standards can be set by workers. In practice it means that the ICA Philadelphia will pay fees according to a minimum schedule determined by its operating expenses of $4.8 million in fiscal year 2018.

W.A.G.E. fees are calculated using a simple equation. The higher an institution's total annual operating expenses, the higher the fee. Our model ties artist fees to these costs because they are the financial articulation of an institution's priorities. After all, if it is the work of artists that the work of the institution is organized around, then its operating costs are an appropriate measure against which to determine the relative value of artists' labor.

ICA Philadelphia staff reached out to W.A.G.E. almost exactly a year ago and we have worked closely together since then to complete this certification. Now that it's done, it's up to the museum to track all fee payments and remain compliant by ensuring they meet W.A.G.E.'s minimum standards. Each time an institution makes the decision to publicly adhere to these standards it joins a group of others that have done the same – collectively these institutions are turning standards into standardization. No institutions without artists. No standards without standardization.
December 5, 2017
One of W.A.G.E. Certification's cardinal rules is that we don't certify single exhibitions. We certify whole institutions for a minimum of one year because we believe that the commitment to paying artists for the provision of content acknowledges the relationship between artists and nonprofit institutions as being one of labor and not charity, and that it must be consistent in order to be taken seriously.

However, because museums have demonstrated the greatest resistance to W.A.G.E. Certification, despite evidence that many are now using its payment standards, we have chosen to bend this rule and approach the reform of large art institutions brick by brick. Like last year's certification of Open Space, a department of SFMOMA, we wish to again demonstrate that where there is political will within museums by determined institutional actors, it can be done.

That's why the 57th edition of the Carnegie International has just been W.A.G.E. Certified. The Carnegie International was founded in 1896 and as a museum-backed art event mounted every five years, it occupies a unique position. Like other historically grounded exhibitions in the Global North such as documenta or the Whitney Biennial, the Carnegie International involves years of careful planning, negotiation, and curatorial consideration, all of which produce great anticipation in the field about who will be included and why. Once announced, the exhibition impacts programmatic decision-making and art collecting patterns globally for years to come.

The Carnegie Museum's annual operating expenses far exceed $5 million. This means that according to W.A.G.E. standards, each participating artist in the Carnegie International will receive a fee of at least $1,500, regardless of whether or not their inclusion in the exhibition increases the possibility of a future financial return. As the International's curator Ingrid Schaffner notes, this amount "is not proportional to the scale of the work, fame of the artist, or group."

While this may sound relatively inconsequential, it isn't. The decision by the Carnegie International to guarantee evenly distributed remuneration is a rebuke of speculation as a form of payment in the nonprofit sector. It is also an affirmation of art's value as a common good – one to which both the labor of artists and institutions contribute, and which both must collectively work to maintain.

Congratulations to the 57th edition of the Carnegie International!
August 9, 2017
Self-regulation isn't easy—in fact, it's a lot of work.
But in the absence of any standards for artist compensation at the city, state or federal levels, making the demand to be paid and the choice to remunerate are the only options for both artists and the institutions that contract our labor.
The introduction of payment standards through W.A.G.E. Certification was itself an act of self-regulation, and getting art institutions to respond in kind has been our task since then.
How W.A.G.E. has approached regulating the unregulated is a matter of strategy. Like any labor campaign it has involved sustained agitation and repetition of the same refrain. But given the art field's reputation economy it has also involved holding institutions to material account for the moral and political claims they make about their work and the public good its execution serves.
We recognize that choosing to get W.A.G.E. Certified is a big step for an institution, also requiring the work of first re-conceiving what constitutes labor and then either raising or redistributing money to pay for it.
Overseeing the compliance of over 40 institutions is also labor intensive for us, especially in the dead of summer! It has become a job too big for a person and an Excel spreadsheet—so we automated it. W.A.G.E. Certification now:
Accepts application uploads anytime, no more deadlines;
Instantly generates fee schedules based on total annual operating expenses for any number of fiscal years;
Tracks and records fee payments year round, eliminating the annual audit and making artist compensation part of an institution's daily workflow;
Indicates when payments are below minimum and prompts correction;
Allows multiple staff members and departments to enter payment history.
Automation adds precision, security, and convenience. It also introduces administrative coercion as a strategy in our campaign: the easier we make it for institutions to pay artists, the harder it will be for them not to.
This is the first in a series of new initiatives introduced on our NEW WEBSITE. Soon we'll add WAGENCY, a coalition and sister certification program for artists, followed by an updated and modular version of Seth Siegelaub's The Artist's Reserved Rights Transfer and Sale Agreement on Blockchain.
These tools are intended for use not only by artists but by any and all who are invested in W.A.G.E.'s mission: to establish sustainable economic relationships between artists and the institutions that contract our work, and to introduce mechanisms for self-regulation into the art field that collectively bring about a more equitable distribution of its economy.
August 9, 2017
Changes to W.A.G.E. Certification Fee Categories
1. New category! Traveling Exhibition
Participating artists receive a standard full W.A.G.E. fee for the first iteration of the exhibition, paid by the originating venue. In subsequent iterations each fee is paid by the host institution and treated as an 'Exhibition Fee'. An Exhibition Fee is 50% of the standard full fee. For example, if a host institution's TAOE is $500,000 or less, the fee for a Group Exhibition with 6+ Artists would be a minimum of $75 per artist, or 50% of $150. If an artist is required to install their work each time the exhibition is mounted, the host institution must pay the artist using the Day Rate for Performers category in this schedule, in addition to covering travel and accommodation expenses.
2. Revisions to Solo Screening with In-Person Appearance as well as additional guidelines for distribution.
Solo Screening with In-Person Appearance is the screening of a film or video accompanied by an in-person appearance by the artist. The fee is separate and distinct from any rental fees paid to a film distributor. If an artist self-distributes their work, rates are negotiated between artist and institution. W.A.G.E. recommends a minimum rental fee of $250 per feature and $75 per short film. The continuous screening of a film or video in an exhibition is covered under the exhibition categories listed above. In the case of both single and continuous screening in an exhibition context, institutions are not required to pay an artist fee if a fee is paid to a distributor.
3. Event With Multiple Participants is now Event with 2 or More Participants
A single event with two or more artists. This may take the form of a presentation of discrete works including but not limited to performance, screening, or reading, or it may be a panel discussion.
4. Additional guidelines for Artist Talk or Reading
An Artist Talk in conjunction with an exhibition is considered additional content and must be compensated separately. An exhibition walk-through or video interview may be included as content provided by the artist as part of the program, but it must be negotiated as such with the contracting institution and acknowledged as labor. In larger institutions where different departments may work with an artist to produce different content for the same program, it is the responsibility of the institution to coordinate between departments and produce a single cohesive contract agreement. For smaller institutions, all content being produced for the program should itemized and agreed upon by both artist and institution.
5. Lecture/Seminar/Workshop is now Lecture only
The delivery of a new keynote presentation or a new lecture by an artist. Criteria for what constitutes new content must be negotiated between artist and institution.
6. Additional guidelines for Day Rate for Performers and an increase in fee size
Day Rate for Performers are fees paid to performers participating in commissioned and existing performances created by the Contracted Artist. Fees are paid to performers directly by the organization. 'Performers' include all persons who may be understood as performers, whether called Facilitators, Re-performers, Caretakers or other. Fee offer must be articulated to applicants at time of audition/interview and Performers must receive a contract for review a minimum of 5 business days before signing and returning. If the contracted work takes place over a period of more than 30 days, Performers must be hired as Temporary Employees and not Independent Contractors. Day Rate for Performers at institutions with operating expenses up to $5,000,000 is $25/hour or $125/Day, whichever is higher. Day Rate for Performers at institutions with operating expenses over $5,000,000 is $50/hr or $200/day, whichever is higher. In some cases this category may also be used to contract other forms of temporary waged labor not covered by this schedule.